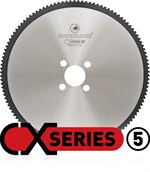 CX5
The Kinkelder Connexxioncut 5 circular saw blade provides a cost effective solution to extending the production capabilities of light duty sawing applications by increasing both output and saw blade life.
This TCT saw blade is ideal for use on cutting machines designed for HSS cutting blades having been developed as an extremely effective saw blade for cutting either hard materials or for high speed sawing operations.
Sawing Application: Light Duty Sawing Machines.
Compatibility
Our blades are compatible with all machines examples are;
For more information, technical advice or prices please call us on 024 7661 0907 or email us on sales@krsaws.co.uk .