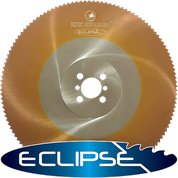 Eclipse
Due to a sophisticated PVD coating for wear protection which achieves a very low friction coefficient, the Eclipse saw blade is a cost efficient solution for cutting structural and non-alloy tool steel thin walled tubes.
When cutting tubes and profiles on manual and semi-automatic circular sawing machine, the Kinkelder Eclipse blade allows a higher cutting speed than a steam treated saw blade. It can even be used for cutting thin walled tubes on automatic machines.
The Eclipse circular saw blade is also very suitable for cutting stainless steel tubes and profiles.
Advantages compared to steam treated:
Increased blade life
Reduced downtime & tool changes
Lower cost per cut & production costs
Little to no side pick-up
Higher production output
Ideal for cutting both structural- and stainless steel
Areas of application
Eclipse is ideal for sawing the following;
Typical application example:
Material
Dimensions
(mm)
Material
specification
Cutting speed
(m/min)
Cutting time
(s)
Output
(Pcs/hr)
Blade life
(cuts)
Blade life
(m2)
Tube
40 x 4
S235
70
3,96
561
5,000
2,2
Stainless steel applications
Material
Suggested
cutting speed
Blade life
(indication)
Austenitic stainless steel (300 series)
30 – 50 m/min
≈ 1 m2
Ferritic w/o Ti (409 & 412)
220 – 260 m/min
< 2 m2
Ferritic with Ti (441)
60 – 120 m/min
Compatibility
Our blades are compatible with all machines examples are;
For more information, technical advice or prices please call us on 024 7661 0907 or email us on sales@krsaws.co.uk .