Kinkelder Company History
The Dutch Kinkelder Company was founded in 1945 by Mr. Piet de Kinkelder and it continues to be led by the Kinkelder family supported by a team of highly experienced professionals.
Located in the East of the Netherlands, Kinkelder was initially focused on the design and manufacture of agricultural spraying equipment. In the early 1960's Kinkelder diversified into saw blade manufacture producing HSS circular saw blades.
Today Kinkelder has developed an enviable reputation for application based sawing technology, focused on the specific dual challenges of sawing steel tubes, bars and sections in difficult and exotic materials and at previously unthinkable production rates.
Kinkelder has developed a body of technical know-how unmatched in the circular saw blades industry, using sophisticated metal processing techniques such as lasers, heat treatment and tempering equipment and state-of-the-art computer controlled cutting machines; all developed to ensure the highest possible level of quality in the manufacturing of steel cutting blades.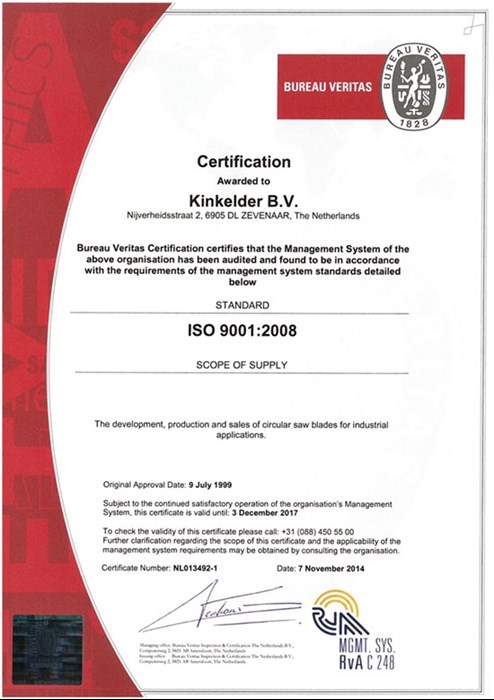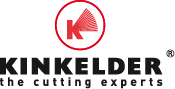 ISO 9001:2008 Quality Standard
On November 7th 2014 Kinkelder BV quality management system was once again re-certified by Bureau Veritas Certification for the next three years in compliance with the ISO 9001:2008 standard. Kinkelder BV has been a ISO certified company since 1999.
Production Strategy
The core focus of Kinkelder is to understand and anticipate the needs for reduced cost of production by working alongside its customers to analyse sawing processes, and identify key variables in both material and machine conditions. By keeping up-to-date of the latest advances in machine technology and metallurgy Kinkelder can provide state of the art saw blades. This strategy enables Kinkelder to drive down production costs by optimising cutting finish and performance, and thus eliminating waste and costly secondary operations.
The technical expertise built up over five decades by Kinkelder exclusively enables KR Saws to provide the UK saw cutting industry with market leading technical support direct from the circular saw blade manufacturer for many different metal cutting applications.
Overview of Kinkelder Saw Blades
Even with an almost infinite combination of sawing machines, material specifications and cut speed/finish requirements, Kinkelder will always be able to offer the optimum saw blade and also provide a detailed applications recommendation to satisfy all production needs. Read more.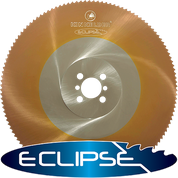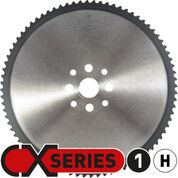 Standard HSS Circular Saw Blades have been the industry core product for decades and still have their place for traditional stationary sawing applications. However the very latest developments in HSS circular sawing technology have been incorporated into the Kinkelder Power 3000 and the Supreme series of saw blades. Advances in grinding technology have been harnessed to refine the finishes and manufacturing tolerances of HSS saw blades which has resulted in a product whose performance vastly exceeds anything available in today's market.
The new millennium saw the introduction of the Connexxionncut coated carbide range of circular saw blades when in the early 2000's Kinkelder was the first manufacturer to introduce tungsten carbide tipped sawing into tube cutting technology. The Connexionncut single use, coated carbide circular saw blade was introduced to high volume steel tube producers. Incorporating some of the experience gathered from HSS applications and benefitting from the vastly increased wear life of coated TCT through resistance to high temperatures, productivity gains of 200% to 300% were achieved. The Connexxionncut range has been extended to include solid material cutting at production rates previously considered impossible.
Finally Kinkelder further developed the single use TCT range culminating in the recent launch of the Champion saw blade. Taking a completely new approach to blade design providing significant increases to blade life and production rates, so vital in a market subject to relentless cost reduction pressures.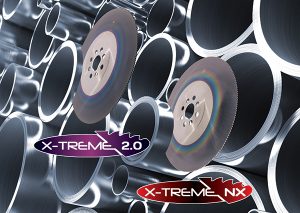 Kinkelders new advanced range of HSS circular saw blades
This unique combined range of Kinkelder HSS, TCT and segmental circular saw blades offers unrivalled cutting solutions for applications in automotive, tube manufacturing and all other metalworking industries and is exclusively available in the UK, from KR Saws. For any enquiry, technical advice, to place an order for circular saw blades or to use our 'in-house' saw blade sharpening and repair service simply call KR Saws today on 024 7661 0907 or send a Fax: 024 7661 0706 or email: sales@krsaws.co.uk for more information.