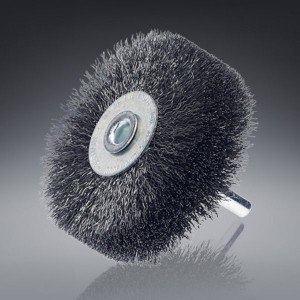 Band Saw Brush
The Swarf brush on a band saw machine or circular saw machine is vitally important to improving and preserving tool life.
The swarf brush helps remove chips that reside within the gullet of a saw blade, a defective or worn swarf brush can reduce the life of a saw blade significantly and increase the amount of 'clogging'
We hold stock of both wire swarf brushes and nylon swarf brushes to suit a variety of sawing machines including Amada, Behringer, Bomar, Cosen, Danobat, Everising, hydmech, Karmetal, Kasto, Mega, Noritake and Tsune and more.
Our sizes range from 60mm – 100mm in diameter and 6mm – 17mm bores.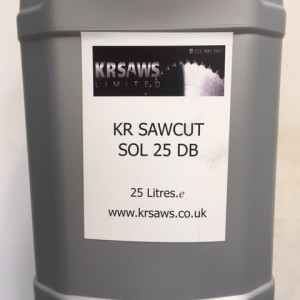 Oils and lubrication
At KR Saws we stock a range of oils and lubrication that assist with the sawing process. (band saw and circular saw)
Soluble oil (coolant) – is very effective in reducing the heat generate that comes with sawing, the coolant decreases the temperature on the cutting tool which in turn increases tool life. Our soluble oil comes in containers of 25 litres.
Spraymist – helps to lubricate the machine and reduce wear and tear. It also helps swarf removal and decreases the chance of chip welding to a blade. Unfortunately spraymist doesn't help reduce the temperature on the cutting tool like soluble oil but it is more environmentally friendly. Our spraymist is available in 5 litre and 25 litre containers. Our spraymist is also available as an Inox oil which is suitable for cutting stainless steel.
Other terms used – Band saw cutting fluid, band saw coolant, sawing lubrication.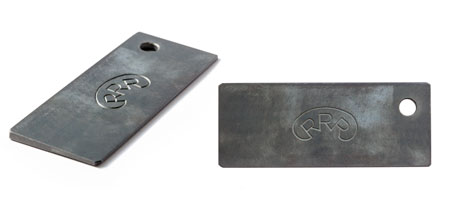 Wedge to prevent closing
Steel wedge to prevent blade jamming on high stressed steels and alloys such as structural steel beams and Inconel.
The wedge creates extra clearance or 'kerf' assisting the band saw blade through the cut.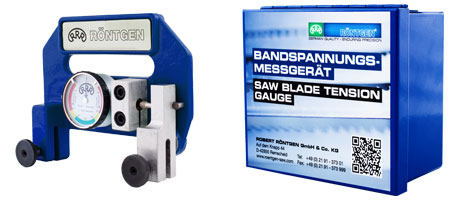 Band Saw Blade Tension Gauge
Correct band saw blade tension is vital to ensure cut straightness. The RÖNTGEN tension gauge quickly and accurately measures the exact blade tension while it is mounted on the band wheels.
Band Saw Mobile Feed Measuring Device
A constant feed rate is required to archive high durability of the band saw blade, and a high cutting performance.
The Röntgen VM – 500 allows a fast and precise measurement of the feed rate (in mm/min or inch/min) during the sawing process.
Coolant Refractometer
Soluble coolant makes an important contribution to extended blade life. It lubricates tooth tips to reduce wear and removes excessive heat from the saw blade, machine and work piece.
The mix ratio of the coolant is displayed in % by looking through the eyepiece.
The consistency of the mixture is important, if the ratio is incorrect the coolant may become ineffective and harmful to health.
We would normal recommend a mixture of between 8%- 12% but this can vary depending on the material being cut and machine conditions.
For more information, technical advice or prices please call us on 024 7661 0907 or email us on sales@krsaws.co.uk .