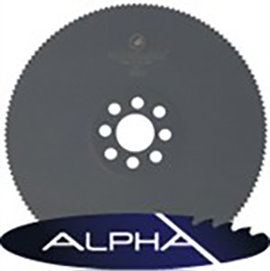 Alpha
The standard for all structural- and non-alloyed tool steel.
The Alpha saw blade has a blue Oxide surface layer for a longer blade life compared to the uncoated saw blade.
Its main use is for cutting steel on manual and semi-automatic sawing machines.
Areas of application
Alpha is ideal for sawing the following;
Material
Dimensions
(mm)
Cutting speed
(m/min)
Cutting time
(s)
Blade life
(cuts)
Blade life
(m2)
Tube
25 x 1,5
38
4,0
18,000
2,0
Tube
32 x 2,0
38
4,2
14,000
2,5
Compatibility
Our blades are compatible with all machines examples are;
For more information, technical advice or prices please call us on 024 7661 0907 or email us on sales@krsaws.co.uk .