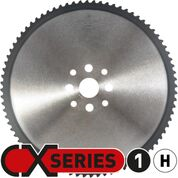 CX1H
CX1H saw blade has specifically been designed for cutting high tensile carbon steel (> 900 N/mm2, carbon content ≥ 0.60%) at very high production rates.
It is also very suitable for cutting ferritic, martensitic and duplex stainless steel bars with a diameter larger than 35 mm.
Advantages:
New saw body design
New dedicated tooth geometries
New type of coating
Best blade life performances when cutting high tensile carbon steel
High productivity when cutting stainless steel
Areas of application
CX1H is ideal for sawing the following;
Compatibility
Our blades are compatible with all machines examples are;
For more information, technical advice or prices please call us on 024 7661 0907 or email us on sales@krsaws.co.uk .