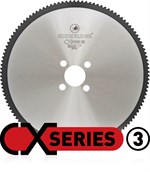 CX3
The Kinkelder Connexxioncut 3 circular saw blade has been developed for tube cutting on high quality automatic sawing machines at speeds that are very much faster than is possible with HSS steel cutting blades.
The superior performance of the Connexxioncut 3 makes it an ideal choice for many saw cutting solutions, particularly those involving thick wall tubes, very high strength steels and high volume output operations, especially on flying saws with accurate control of chip load and variable feed rate.
Sawing Application: Automatic Sawing Machines
Compatibility
Our blades are compatible with all machines examples are;
For more information, technical advice or prices please call us on 024 7661 0907 or email us on sales@krsaws.co.uk .