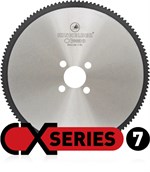 CX7
CX 7 is a Cermet tipped saw blade dedicated to cut low to medium strength carbon steel. On many applications, blade life of 50m2 and more can be achieved.
Areas of application
CX7 is ideal for sawing the following;
Compatibility
Our blades are compatible with all machines examples are;
For more information, technical advice or prices please call us on 024 7661 0907 or email us on sales@krsaws.co.uk .